MOR-EV Massachusetts Offers Rebates for Electric Vehicles for Sale in Milford, MA

---
Milford Nissan and MOR-EV Makes Selling Electric Vehicles Easier
Now Milford Nissan can offer Standard rebates for new vehicles at the point of sale as cash on the hood to reduce upfront costs. Rebates are also redeemable post purchase with additional rebates for income-qualifying car buyers.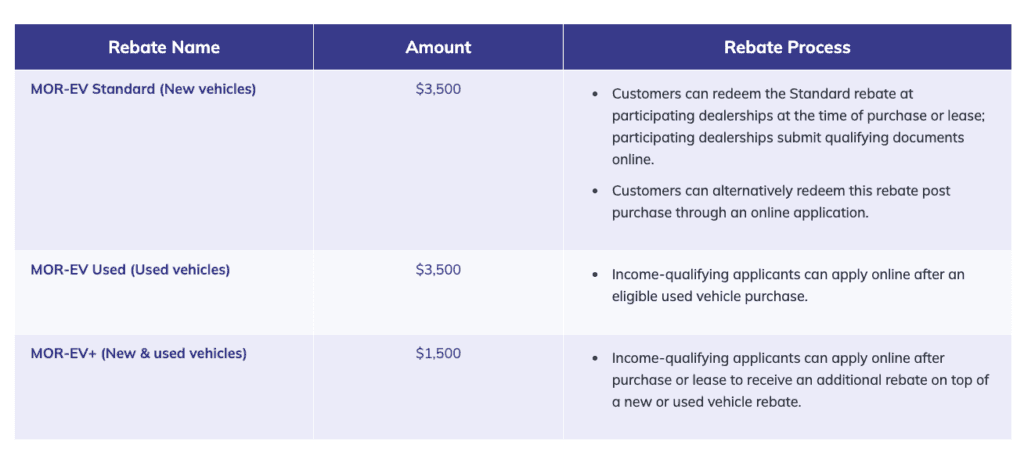 ---
Milford Nissan Teams Up With MOR-EV 
Milford Nissan is now a participating Electric Vehicle Dealer with MOR-EV to help our customers save with rebates that they may qualify for when purchasing or leasing an electric vehicle. As of August 8th, 2023, Milford Nissan is able to help apply for any rebates you may qualify for on a new and used electric vehicle you purchase/lease at the dealership. We are here to answer any questions and to be a guide into what vehicles qualify for what and will have the ability to apply the rebates at point of sale. Furthermore, we can help our customers put in a claim for a eligible vehicle that they purchased or leased from us after November 10th, 2022 to receive a rebate retroactive to the program start date of August 8th, 2023.
Who is MOR-EV and how does this program work? 
The Massachusetts Offers Rebates for Electric Vehicles (MOR-EV) Program aims to reduce air pollution and greenhouse gas emissions and support greater adoption of electric vehicles across the Commonwealth by offering rebates to consumers (residents, corporations, and other entities) who register their on-road zero emission vehicles in Massachusetts. MOR-EV provides rebates for the purchase or lease of eligible battery electric vehicles and fuel-cell electric vehicles, including passenger cars and medium- and heavy-duty trucks and other vehicle types. Full program information, application processes, a list of eligible vehicles, and more are available on the MOR-EV website, https://mor-ev.org/.
Program regulations for MOR-EV went into effect on August 8, 2023.
---
Find out if you qualify today!
---
Start Shopping Now!