Benefits of the Nissan Rent a Car Program:
Daily rentals starting at $39.99!
Clean and Well-maintained fleet!
Large Selection of late model Nissan vehicles available!
We offer both short term and long-term rentals!
Located at Milford Nissan Collision Center!

Try Before you Buy:
Need more than a 5 minute Test-drive to decide if this will be your next new car? Rent one of our new Nissan models for the day, week, weekend or even a month before your next lease or purchase.

Service Rental Vehicle:

Drive away in the latest model Nissan while yours is being serviced at the dealership.
Receive complimentary loaner car service with all overnight warranty service on your Nissan vehicle.

Insurance Rental Vehicle:

Is your vehicle being repaired at the body shop? Ask us about a Nissan rental vehicle as a temporary replacement vehicle.

Personal Business:

Rent a Nissan to save miles on an upcoming lease expiration.
Enjoy a weekend getaway in a current Nissan model.
Rent a comfortable, roomy Nissan for out-of-town guests or a business trip.
Pickups available for rental!


Call Milford Nissan Today
NISSAN RENT A CAR POLICY
Customers must be at least 21 years of age.
Customers must provide a current, valid U.S. driver's license.
Customers must provide proof of full coverage insurance.
Customers must also provide a major credit card or debit card for fuel, mileage or cleaning charges.
Rates may change without notice. Not Valid on Holidays.
Weekend Rates starts from Friday noon, ending Monday. No Sunday returns.
Mileage, 150 per day 3000 miles /mo $0.15 per mile after
Rental cars are prohibited from being driven out of the country.
Customers are responsible for any vehicle damage or other costs while the rental vehicle is in their possession, and are expected to return rental vehicles in the same condition they received them except for ordinary wear.
Rental vehicles being paid for by Nissan Warranty, Service Department, Sales Department or another entity DOES NOT INCLUDE FUEL used by the customer. Customers must return the vehicle with a FULL FUEL tank.
A charge of $5.00 per gallon will be assessed to customers returning vehicles less than full of fuel.
SMOKING in rental vehicles is PROHIBITED, and a $250.00 cleaning fee will be charged if necessary.
Transporting animals in rental vehicles is prohibited, and a $400.00 cleaning fee will be charged if necessary.
Rental vehicles being paid for by a third party must be returned within 24 hours of vehicle repairs being completed or customers will be charged the retail rate for each additional day the customer retains the rental vehicle.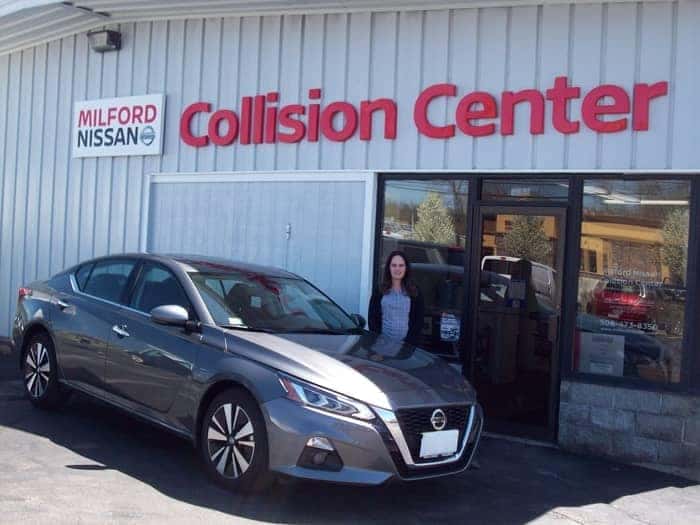 Rental Cars

---
General Manager
Chris Wong
General Manager
774-804-3601

[email protected] As the General Manager of Milford Nissan, my role is to ensure the best customer experience in all our departments. Whether it's time to get a new vehicle or you are coming in to do maintenance, Milford Nissan wants to provide an affordable, efficient, safe, and pleasurable interaction with our staff. I have been in the automotive industry for almost 20 years and have filled many different roles within a dealership. I enjoy the many relationships I have made throughout the years with customers and look forward to all the new ones that are to be made in the future. Our team understands the importance of customer service in being a successful company and that taking care of our customer base is the number one priority. Outside of work, I am a proud father of two wonderful little children. My wife and I are both home grown Massachusetts residents and we all currently live in the town of Franklin. Having grown up on the south shore, my wife and I have deep roots in many of the communities in the surrounding area and have most of our family living close by. Knowing how important it is to build life long connections, we are very active in town sports, activities, and school groups. My son currently attends Benjamin Franklin Charter School in Franklin and our daughter will soon be part of the Franklin school system. Personally, I enjoy taking the kids bike riding amongst the many parks and trails we have in the area. I also am a hardcore sports fan who grew up in the days of bad Boston sports teams to now being spoiled by the many championships we've won in recent years. Thank you again to all our loyal customers and to the new ones that we will welcome to our dealership.