2018 Nissan LEAF Coming Soon near Framingham, MA

*Vehicle shown above is a 2018 Nissan LEAF with optional equipment.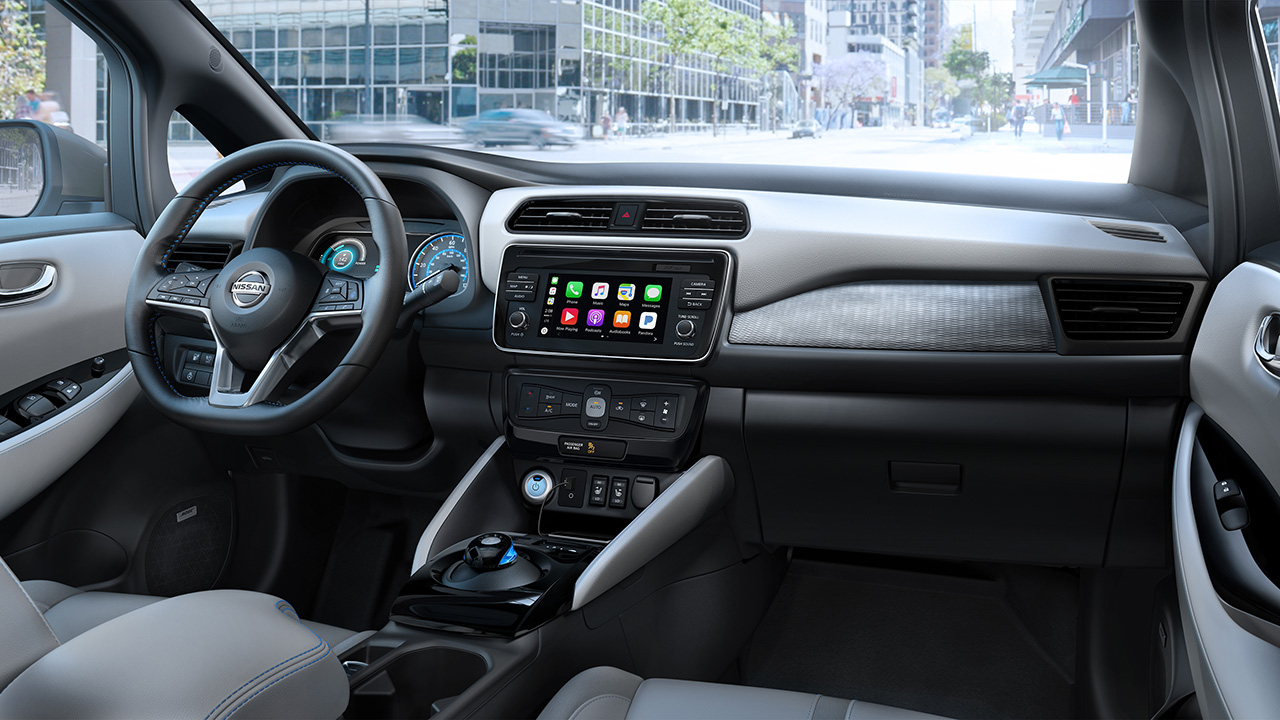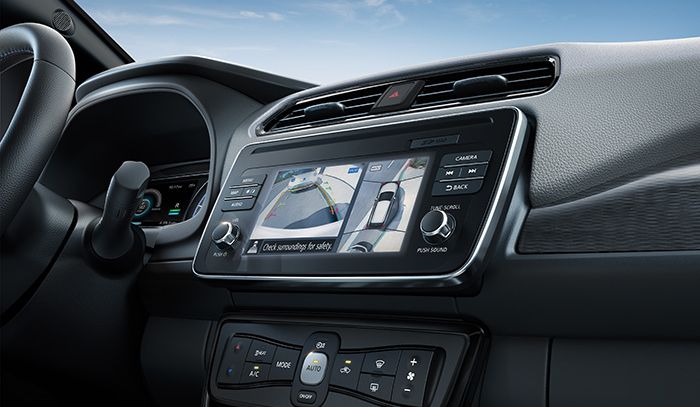 Your passion for environmental care was noticed by the manufacturers at Nissan, and they responded by crafting an all-electric vehicle that will transform your day-to-day commutes into zero-emission rides you are sure to appreciate. When you test drive the 2018 Nissan LEAF, you will certainly notice a difference between its confident, float-like driving experience and the gas-guzzling treks you are used to. Give Milford Nissan a call at 774-462-3001 to secure a LEAF today!
Since this vehicle boasts absolutely zero emissions, you can confidently make your routes without having a guilty conscience about your carbon footprint. The LEAF allows you to travel up to 150 miles1 before needing a charge, and it switches between two batteries to help you get the juice you require, depending on the situation. You can use the 240V battery1 for fast-charging from home, which allows you to gain 22 miles of range for every hour that it is plugged into the wall. If you use the 50kw battery1, which is the fastest charging port available for the LEAF, you can accumulate 88 miles for every half hour. And, because the LEAF is designed with an e-Pedal2, you only use one motion for stopping and accelerating, which means you have instant torque and immediate braking that intensifies your driving experience. You can even keep track of the location of public charging ports, activate roadside assistance, and access maps and navigation at any time through the NissanConnect® EV app3.
Equipped with available ProPILOT™ Assist4, the Nissan LEAF is not just environmentally-conscious, but also intuitive to everyday situations. By implementing features like Automatic Emergency Braking with Pedestrian Detection5, the LEAF is more than prepared to stop on a dime if a person ever transgresses your path and you don't have enough time to brake on your own. When you set the cruise function on the LEAF, you can rest your foot for the long drive down Massachusetts Turnpike, since this little go-getter will maintain your speed and accelerate for you when your path is clear. You don't have to worry about crossing out of your intended path because the LEAF ensures that you stay within the lines at all times with special sensors equipped through available Intelligent Lane Intervention6. Of course, you also want reassurance, as you're backing out of a parking space, that you won't crash into anything behind you. Since the 2018 LEAF uses available Rear Cross Traffic Alert7 in tandem with its optional Around View® Monitor8, you can have confidence during every maneuver.
You can take on a driving experience like never before when you indulge in our all-electric vehicle, the 2018 Nissan LEAF coming soon near Framingham, MA. Here at Milford Nissan, we are happy to set you up on a test drive and sit down with one of our sales associates to figure out the final details of your payment. All you have to do is reserve one for yourself by stopping in or giving us a call. We can't wait to show you all of what the LEAF has to offer!
Testimonials
GOOGLE
3-14-2020
GOOGLE
3-14-2020
"Service"
DEALERRATER
3-13-2020
GOOGLE
3-13-2020
GOOGLE
3-10-2020
GOOGLE
3-10-2020
GOOGLE
3-9-2020
YELP
3-9-2020
GOOGLE
3-9-2020
Great Dealership
CARS
3-9-2020
GOOGLE
3-8-2020
GOOGLE
3-8-2020
YELP
3-8-2020
GOOGLE
3-7-2020
GOOGLE
3-6-2020
CARGURUS
3-5-2020
GOOGLE
3-4-2020
GOOGLE
3-3-2020
GOOGLE
3-2-2020
GOOGLE
3-2-2020
GOOGLE
3-2-2020
CARGURUS
3-1-2020
GOOGLE
3-1-2020
GOOGLE
2-29-2020
GOOGLE
2-29-2020
GOOGLE
2-29-2020
GOOGLE
2-28-2020
GOOGLE
2-28-2020
GOOGLE
2-27-2020
GOOGLE
2-27-2020
GOOGLE
2-26-2020
GOOGLE
2-25-2020
GOOGLE
2-25-2020
GOOGLE
2-25-2020
GOOGLE
2-25-2020
GOOGLE
2-25-2020
GOOGLE
2-24-2020
GOOGLE
2-22-2020
Read More
1 Faster estimated charge time based with 240-volt charging dock and 6.6 kW onboard charger, which is standard on all trims except S. Charge times may vary. Mileage estimates only. Range will vary depending upon driving/charging habits, speed, conditions, weather, temperatures, and battery age. The driver's display shown does not show default screen settings.
2 Use conventional brake pedal for more aggressive braking situations.
3 NissanConnect® EV requires compatible GSM/GPRS cellular network provided by independent cellular companies not within Nissan's control. Cellular network not available in all areas and/or available at all times. In areas with network coverage, signal strength may vary and/or not be available at all times. Technology is evolving, and changes to cellular networks or other third party changes may affect future NissanConnect EV functionality. Should a third party provider terminate/further restrict network service, NissanConnect EV service may be suspended or terminated without notice or liability to Nissan and/or its agents or affiliates. Like other devices that rely on network coverage, once the network is terminated, NissanConnect EV will not function unless equipment replacements, upgrades, or alternative network coverage are available at that time, which Nissan cannot guarantee. Nissan is not responsible for associated costs that may be required for continued NissanConnect EV operation due to cellular network termination (including equipment upgrades, if available, or roaming charges on alternative networks) or other third party changes. Certain remote functions require compatible smartphone, not included with vehicle. NissanConnect EV subscription service requires owner consent to activate. Text rates and/or data usage may apply to NissanConnect EV communications received by email or SMS/text message. Terms and conditions of Subscription Agreement apply.
4 It is the driver's responsibility to remain alert with hands on steering wheel, keeping a look out for other vehicles and pedestrians at all times.
5 AEB with Pedestrian Detection is not a replacement for responsible driving. May not provide warning or braking in certain conditions. Speed and other limitations apply. See Owner's Manual for details.
6 ILI operates only when the lane markings are clearly visible. Speed and other limitations apply. See Owner's Manual for details.
7 Not a substitute for proper backing procedures. May not detect all moving vehicles. Speed and other limitations apply. See Owner's Manual for details.
8 Intelligent Around View® Monitor (I-AVM) cannot completely eliminate blind spots and may not detect every object. I-AVM operates at vehicle speeds below 5 mph. Always check surroundings and turn to look behind you before moving vehicle.