2018 Nissan LEAF Preview near Attleboro, MA
*Pre-production model shown: 2018 Nissan LEAF with optional features
We don't know how you feel about it, we at Milford Nissan always enjoy getting hyped up before the release of a product. Just like Apple® does every single year, we like to give a little introductory preview of vehicles, like the totally amazing 2018 Nissan LEAF! If you have any questions while reading through this, please don't hesitate to utilize the chat function to the bottom, right-hand corner of your screen. You can also talk over the phone to one of our friendly representatives by dialing 774-462-3001!
The Nissan LEAF is a Zero Emission™ vehicle, thanks to its 100-percent electric powerhouse. You may be conjuring images of sluggish starts and restricted traveling, but stop! Take it easy on the beginner electric vehicles. It's not easy transforming the entire way we drive. There's something that Nissan engineers have really gotten right about the way the LEAF responds for this iteration, and you'll feel it the second that you depress the accelerator. There's 100-percent torque immediately provided to you off the line1, and we haven't even mentioned the 147 horsepower yet! Top it off with an impressive 150-mile range2 that encourages you to drive and drive and drive, and we think all of those negative connotations associated with electric vehicles are banished — permanently!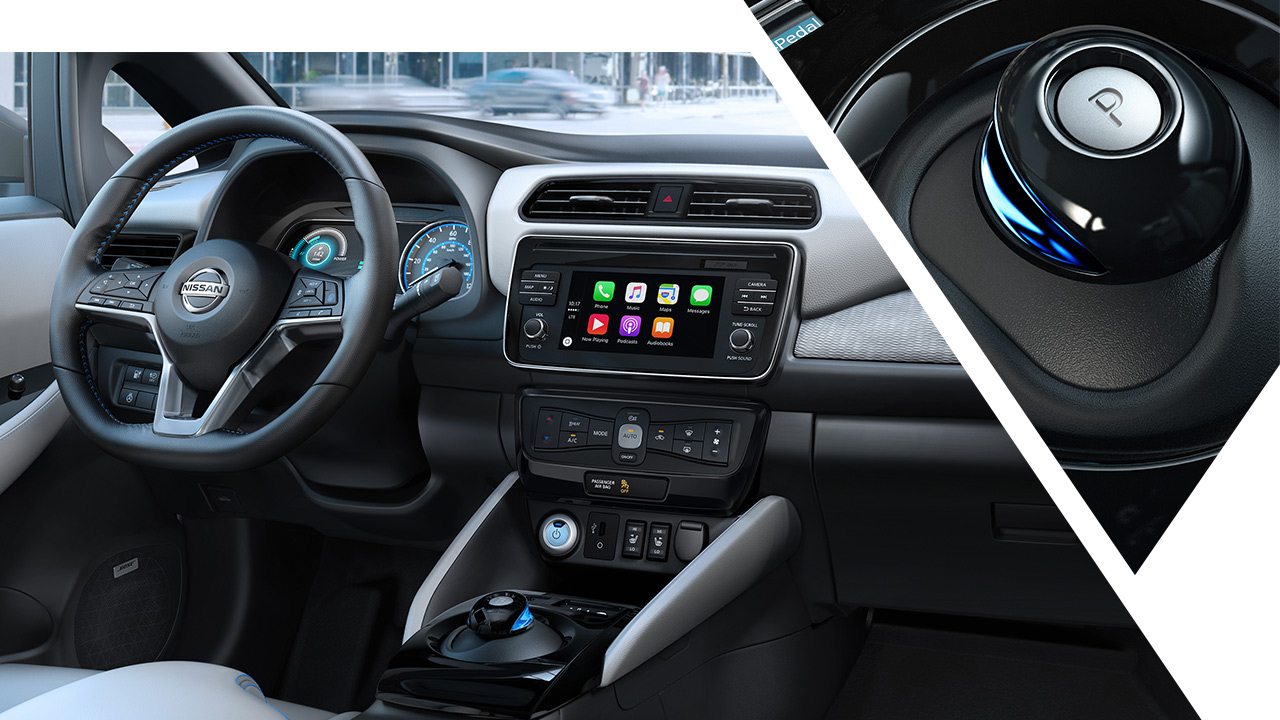 Milford Nissan Sales Hours
774-462-3001
| | |
| --- | --- |
| Monday | 9:00 am - 8:00 pm |
| Tuesday | 9:00 am - 8:00 pm |
| Wednesday | 9:00 am - 8:00 pm |
| Thursday | 9:00 am - 8:00 pm |
| Friday | 9:00 am - 6:00 pm |
| Saturday | 9:00 am - 5:00 pm |
| Sunday | 12:00 pm - 5:00 pm |
One of the most unique additions to the 2018 LEAF is completely designed to make strides towards safety and convenience while driving, and it's called the e-Pedal3. It's interesting in its pure simplicity: depress the pedal to go fast, release the pedal to decelerate, and lift your foot entirely to bring the LEAF to a controlled stop. Yes, you understood that correctly: one pedal. Don't fret, the second pedal is still there. You can brake entirely normally if you'd like, but we think that once you become accustomed to the e-Pedal, the benefits will be numerous. It's great for stop-and-go situations like traffic jams, and it gives your ankle and calf a break when you have to remain at a halt for long periods of time. Check out the video to the left of the screen to see the visual!
Do you want to hear more about this all-electric, best-selling, mass-marketed electric vehicle4? This 2018 Nissan LEAF preview near Attleboro, MA, is just the tip of the iceberg, friends. Come visit us at Milford Nissan and speak with a personable staff member today about reserving your own — and maybe getting a gift for doing it, too5!
Testimonials
Very Very Positive
September 4, 2017
Extremely Pleasant
September 1, 2017
Very easy to work with!
August 25, 2017
The people here are fantastic!
August 9, 2017
Superb Experience
August 8, 2017
Laid back and comfortable
May 21, 2017
Great dealership and a great salesman
May 18, 2017
excellent with service
May 17, 2017
Carly Emery McKenney
May 14, 2017
Mark Rodgers
May 5, 2017
Best dealership to buy a Leaf!
May 5, 2017
Best car buying experience
April 8, 2017
Helen Poynton
April 2, 2017
Buy your LEAF here, from Guy!
April 2, 2017
Three words: Clay. Is. Awesome.
March 4, 2017
f you don't try here you've made a mistake.
February 5, 2017
New car purchase
January 3, 2017
Enjoyed this Purchase
October 13, 2016
A super experience
October 4, 2016
Low pressure and great information
September 15, 2016
Read More
1. According to the Manufacturer.
2. Mileage estimates only. Range will vary depending upon driving/charging habits, speed, conditions, weather, temperatures, and battery age. The driver's display shown does not show default screen settings.
3. Use conventional brake pedal for more aggressive braking situations.
4. 320 Nm
5. Gifts are available only for redemption upon purchase or lease of a 2018 Nissan LEAF by a qualified customer who reserved the Vehicle. Eligible Customers are customers participating in the Program that reserve a Vehicle beginning September 5, 2017 through January 22, 2018 and purchase or lease the new vehicle before May 15, 2018. Gifts offered in connection with the program do not have cash value, cannot be exchanged or returned and may be subject to change without notice. Gifts provided in connection with this program are subject to all applicable laws, void where prohibited and certain restrictions may apply. Eligible Customer's participation in the program and use of the Nissan LEAF online gift platform constitutes full and unconditional agreement to these terms and conditions. Google Home is a trademark of Google Inc. Apple Watch® is a registered trademark of Apple. All rights reserved. Apple is not a participant or sponsor of this program. GoPro, HERO, and their respective logos are trademarks or registered trademarks of GoPro, Inc. in the United States and other countries. GoPro is not a participant or sponsor of this program.